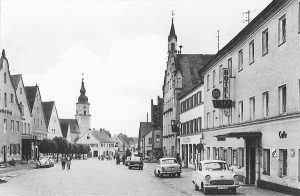 Adresse | Address:
Gasthof zur Post
Vorsitzende | Leader:
Dawid Kurtz, Rudolf Petschenik, Emil Hausner
Bewohner | Population:
22 Januar/January 1947
74 Februar/February 1947
58 März/March 1947
60 Mai/May 1947
45 Juli/July 1947
45 August 1947
44 September 1947
Eröffnet | Opened:
Oktober/October1946
Geschlossen | Closed:
Ab Herbst 1947 wurde Langquaid von der jüdischen Gemeinde Ergoldsbach mitverwaltet. /From the autumn of 1947 the Jewish Community of Ergoldsbach also administered Langquaid.
Sport-/Fußballvereine | Sports Clubs/Soccer Clubs:
ja/yes
Kultureinrichtungen | Cultural Institutions:
Bibliothek/Library
Religiöse Einrichtungen | Religious Institutions:
Sonstiges | Miscellaneous:
Die Mitglieder der jüdischen Gemeinde waren in zwei Gasthöfen untergebracht: Winklmann und Zur Post. /The members of the Jewish Community were housed in two inns: Winklmann and Zur Post.
Letzte Aktualisierung: 26.04.2013